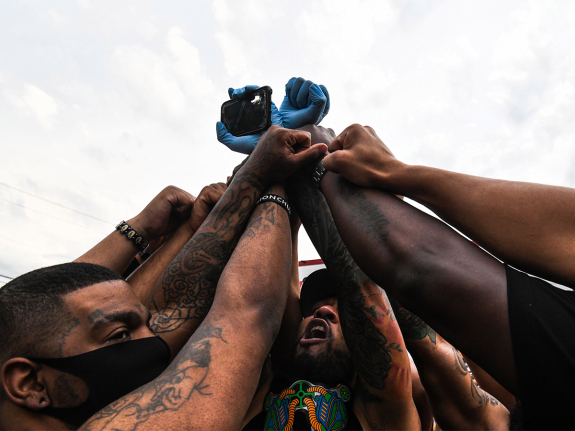 Do you have a queer friend/relative you want to be a strong ally for or do you just want to be a decent human who stands for everyone irrespective of their sexual orientation or identity? Congratulations! The decision to stand up and fight for someone else as much as you're willing to stand up for yourself is a noble act and you are on the right side of history!
So, here are 5 ways to be a strong ally;
Buy Them Lunch: Yes, lunch. Jollof rice, pounded yam and efo riro, or whatever lunch of their choice. Your queer friends are humans and just like everyone else, a free plate of their favorite meal will make them happy. What sweeter way to stand up for someone than getting them their comfort meal? They do need nourishment and nutrition after dealing with homophobes every day.
On issues of Bigotry, silence isn't golden:
The best way to encourage allyship is to simply start a conversation. If you hear or see something that's hurtful towards the LGBTQ community, don't retort to silence, gently point out the problem and use it as a teachable moment. In a society where being straight is a privilege, you can use your privilege to start a conversation and be an advocate for marginalized communities whose voice has been shut down. Whether online or in person, don't let bigotry rule the day.
My thinking.. I was born straight.. I wd never want 2b punished 4 who I am.. because of this.. I wouldn't punish som1 else for who they are https://t.co/mrTFpkaze5

— Yung denzL (@MI_Abaga) August 7, 2017
Grow your knowledge on LGBT rights and issues
Learning about issues that affect the LGBTQ community especially on the local scene is a wise step. But remember, it's unfair to force LGBTQ people to tell you their traumatic experiences or details about their sexuality or sex life if they are not willing to. It's okay to ask questions, but ensure they're not offensive or cumbersome. Don't be afraid to be honest about what you don't know,
if you're having trouble understanding certain terms or need more light on queer issues, you can peruse through our articles here or google the exact question you need answers to.
Support in the way they want
Each member of the LGBTQ community will need support in varying ways. For some it could mean being a listening ear to the issues they face daily or a friend who stands with them while they figure out their sexual identity. Sometimes, all that is needed is for you to accept and respect their queerness without being weird about it or it could mean helping them find someone to be by their side during 'weather for two' season.
The experiences of people are diverse, and their needs will vary. It's also key to note that while their sexuality is an integral part of their life, it is not the only thing they want to be identified as. Often, when people open up to others, their entire existence suddenly rotates around them being queer. They are no longer an actor but a "bisexual actor" or no longer a lawyer but a "lesbian lawyer". No one thinks of a heterosexual banker as the "straight banker".
Thanks for being a decent human but…
You being a decent human by standing for your queer friend/relative is applaudable but you do not get a cookie for being a decent human. In an age of "woke culture", it's important to realize that your queer friend/loved one is not a prop to add to your "woke" ensemble , but a whole human being living a complex life . They do not exist to give your life a pop of colour.
being a lgbtqia+ ally is not a trend or a fashion statement.

being an ally is a daily pursuit of justice and self-sacrifice for your queer neighbors.

you don't get to decide you're an ally just because you want to be one; that title is *given* to you by queer people.

— queer christians wear MASKS (@ope_im_gay) July 3, 2020
Now go ye into the world and be an awesome ally.