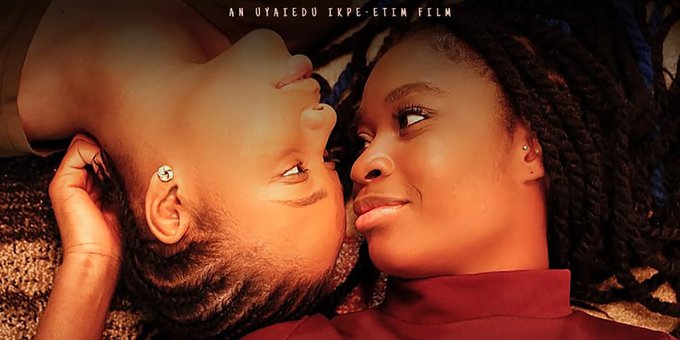 by Joanne Ike
Two women lay curled up in a bed. One gently strokes the hair of the other as she listens to the story of the 'coming out' of her lover. Then she whispers, 'Is it too late to say I love you?'
Suffice it to say, the trailer of the upcoming love story, 'Ife', released on YouTube a month ago, sent cold thrills through many Nigerians. And it's no wonder why.
Despite widespread conversations focused on the LGBTQ community, few countries remain as largely homophobic as Nigeria, which still maintains a 14-year prison sentence for homosexuality. In fact, in 2019, The Initiative for Equal Rights (TIERS), a human rights organisation, conducted a survey and found that 75% of people in the country support the continued enforcement of these anti-gay laws. Nollywood does not do any good either.
Nollywood is content to leave the sexual minorities out entirely, and when queer characters are represented, they are often showed as problematic, possessed, mentally ill or suffering from some version of trauma.
However, a love story, created by Uyaiedu Ikpe-Etim and Pamela Adie in partnership with the NGO, Equality Hub, is set to break these damaging stereotypes.
Read Also: #YNaijaNonBinary: Watch the atmospheric and intimate trailer for Ìfé the Movie
'Ife', which actually means 'love' in the Yoruba language, tells the story of two normal women, Ife and Adaora, played by Uzoamaka Aniumoh and Cindy Amadi, who fall in love over the course of a 3-day date but face challenges and prejudices in a largely homophobic Nigeria.
For the director/writer, Uyaiedu Ikpe-Etim, a queer woman herself and an LGBTQ activist, the movie serves as a means of restoring the dignity of LGBTQ people in Nigeria.
"I'm queer so 'Ife' is dear to my heart," she said to CNN in an interview last month. "I wanted to represent LGBTQ characters in a different light than how they are shown in past stories, to change how heterosexuals view them."
For the producer, Pamela Adie, also an LGBTQ activist and founder of Equality Hub, the movie represents lesbian, bisexual and queer women in Nigeria taking back their power and telling their stories themselves.
"This is one for us…it will bring immense joy to the hearts of many of us who would be seeing people like us centred in a Nigerian film for the first time." She said. "We also hope it will leave others feeling tender, knowing that love is love…"
According to her, the idea is to show queer people as normal people rather than people to be feared or cured or treated.
Of course, as same-sex relationship is still illegal in Nigeria, Ife's production has been threatened by the National Film and Videos Censors Board, which regulates film and videos in Nigeria. The executive director of the board, Adedayo Thomas told CNN last month that they are prepared to track down all those involved in the production if it promotes themes that do not conform with the country's constitutions, morals and tradition.
But Miss Adie and her team are not daunted.
No release date for the movie has been set but, according to her, it will be released later this year, regardless of beliefs.
She said that the movie will be released online on their own streaming platform, out of the control of the Censors Board so that anyone who wants to watch it will be able to do so from anywhere in the world.
Despite the challenges of same-sex relationships in Nigeria, it seems that several Nigerians eagerly await the release of 'Ife'.
Adie also attests to this as she told CNN that there has been massive support for the movie.
"It feels like people didn't know that they wanted this kind of content till now," she said.
As we await the release of the movie, we can't help but wonder if we are truly entering into a new age for Nigerian movies. Perhaps, the release of 'Ife' will prompt other Nigerian storytellers to give queer characters a stage. Perhaps it will prompt them to throw away previous stereotypes and embrace more authentic depictions.
Whatever the case, Miss Adie has assured us that for her, 'Ife' is just the first of many as she intends to make more films that centre stories about LBTQ people.