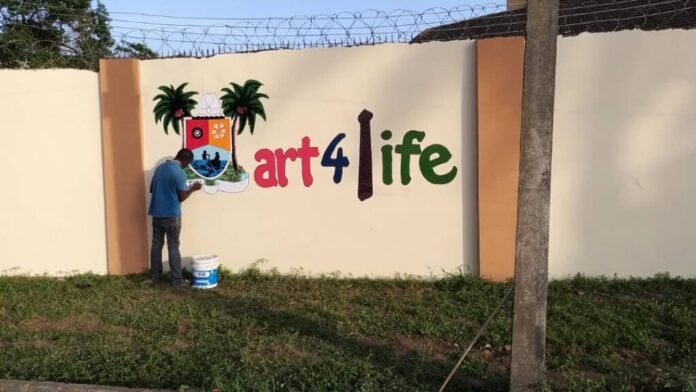 On an extraordinary Sunday morning in May, two dozen health workers, donned in scrubs and face masks followed the smooth sound of a saxophone out onto the lawn outside isolation tents. While the health workers danced outside the tents, the patients inside the tents danced as much as they were able to. Some swayed their upper body. Some bobbed their heads. Some could only watch with a bright smile on their face as the band continued to play.
'The purpose was to lift spirits' Abolaji Banjoko, popularly known as Beejaysax, who led the band said.
Despite the fact that its therapeutic benefits had been hinted at for centuries, art, in form of painting, drawings, music and so on occupied the mind of humanity merely as recreation, something to be experienced and enjoyed in leisure. It is only in recent times that art has evolved into something more functional, something that can have great impact on health. In short, it has recently evolved into a recognised form of therapy.
Rooted in the idea that creative expression can foster healing and mental well-being, art therapy has been defined as a form of psychotherapy that uses artistic methods to treat psychological disorders and enhance mental health.
Around the world, this form of therapy has been used to varying degrees in the treatment of both mental illness and general illnesses. The use of artistic methods to treat psychological disorders and enhance mental health is known as art therapy. Art therapy is a technique based on the idea that creative expression can foster healing and mental well-being. Art, either creating it or viewing others' art, is used to help people explore emotions, develop self-awareness, cope with stress, boost self-esteem, and work on social skills.
Where does Nigeria stand in all of this?
Both patients and hospital staff of the Lagos University Teaching Hospital, (LUTH) can recall a day in March of 2018 when the usual gloom of the pediatric oncology ward was transformed into a colourful, even festive environment as patients were given paintbrushes and asked to paint. This event was only one of many events organised by Kunle Adewale, founder of the Tender Arts Nigeria, an organisation which aims to transform the health care experience for patients using arts.
According to Adewale, this therapeutic method has yielded notable results across all health institutions in which they have worked, including mental health institutions.
Through a yearly fellowship program called 'Arts in Medicine' organised by Adewale's organisation, health care workers are also trained to employ these therapeutic methods for the benefits of their patients.
But Adewale and his organisation are not the only employers of this therapy in Nigeria.
In 2019, the commissioner of health, Prof. Akin Abayomi inaugurated an initiative called Art4life, a project aimed at using art to create a soft and compassionate environment to aid the healing of patients in health facilities.
In the wake of the deadly coronavirus disease, COVID-19, this particular initiative has evolved to include a series of concerts outside coronavirus isolation and treatment centres including the uplifting scene orchestrated by Banjoko and his musicians, and several other concerts performed outside isolation centres since then.
It is true that it is difficult to measure the effectiveness of this therapy and because of this many have been sceptical but one only has to look at the faces of the recipients to be convinced.
'If we have something that can stimulate people fighting back… we have to encourage it,' a doctor, Abosede Lewu who was present at Banjoko's concert, said.
Evidence has shown that coronavirus patients, relatives and even health workers have an increased risk of developing mental health issues including depression and anxiety. Yet, the pandemic continues to thrive and death tolls continue to rise.
And so, if these people can gain even a few minutes of relief through this therapy then indeed, just as Dr Lewu said, it must be encouraged.